Contact Phil's Garage Door Service
---
Duluth

(218) 525-7654

5962 N Tischer Rd
Duluth, MN 55804
Virginia

(218) 749-0750


Grand Rapids

(218) 326-1672


St. Cloud

(320) 443-6699

7883 173rd Avenue SE.
Becker, MN 55308
---
Office Hours
Monday-Friday: 8AM to 4:30PM · 24-Hour Emergency Service Available
---
Online Request Form
Feel free to call us directly to request an estimate or schedule a service call. Or, if you prefer, simply complete our form and we will follow up with you shortly.
The International Door Association's primary mission is to provide programs and services to door and access systems dealers, for the express purpose of enhancing their value and professionalism. The IDA enforces a Code of Business Conduct that demonstrates an IDA member's commitment to quality, excellence and customer service.
---

Northern Minnesota Building Association (NMBA)
The Northern Minnesota Builders Association (NMBA) is a non-profit organization building industry association serving the counties of Lake of the Woods, Itasca, Koochiching, Aitkin, and St. Louis. The main focuses of the Northern Minnesota Builders Association are: advocacy, education, governance affairs, & legislation.
---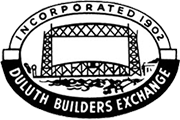 Duluth Builders Exchange
The Duluth Builders Exchange is a member driven non-profit association dedicated to providing timely construction project leads and information to our members.
---

Duluth Chamber of Commerce
The Duluth Area Chamber of Commerce was founded on August 5, 1870. The Chamber has been moving business forward in the community for over 145 years. As the third largest Chamber in the State of Minnesota, the Duluth Area Chamber is a great place to educate, promote, and grow your organization. They currently serve approximately 1100 members, with four members that have been with the chamber for over 100 years.